Centennial Rose Garden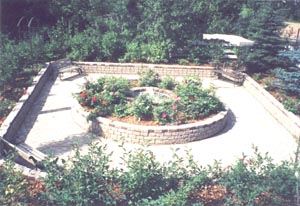 The ground for the centennial rose garden was broken on September 5th, 2005 to mark the 100th anniversary of Alberta a a province.
The garden consists of fountain surrounded by a raised bed of 13 different hardy roses, one for each province and territory in the Dominion of Canada on September 5, 2005. The first rose visible when you enter the garden is appropriately called "Hope for Humanity". This rose produces a copious amount of blood red blooms throughout the season.
Alberta is represented by the "Therese Bugnet" (pronounced Boon-yay) rose immediately to the right of "Hope for Humanity" The Therese Bugnet was named for George Bugnet's daughter when he first developed the rose in his experimental gardens located just outside the town of Legal, Alberta in the late 1960's.
The centennial rose garden is the jewel of Mr. V's extensive show gardens and is part of our Show Garden Tour held every Saturday during July and August at 2:00pm.
Afternoon Tea in the Rose Garden is served promptly at 2:00pm every Sunday during July and August.
Perennial Show Garden
The sunny show garden is masterpiece of form and colour. This 100' by 12' garden displays just about every perennial and vine that can be grown in northern Alberta in a single spectacular display.
Elevated by a freestome rock wall, with contrast provided by 5 different types of climbing vines this living floral arrangement has something in bloom from mid-April to the advent of a hard frost in late October.
Shade Garden
Not surprisingly, this garden is located on north side of Mr. V's greenhouse to display the plants and shrubs that do not like so much sunshine.
Displaying everything from Berginia to the pasque flowers and framed by a treated wood raised bed.
Freestone Waterfall
The freestone waterfall is made from the flat sandstone that quarried right on Mr. V's property. The rock is 68 million years old and is the remnant of a Cretaceous beach deposit complete with wood fragments and fossil shells.
Instead of a single torrent, the water flows off this rock in 15 mini-waterfalls each flowing down a ripple mark when this rock was laid down in shallow seas almost 70 million years ago.
The beauty of any freestone structure is that no mortar is use to hold the stones together so this arrangement can taken down and re-assembled in a different form or in a different place with relative ease.
Cemented Rock Wall Terrace
These round river stones stay in place because they are cemented together. The kidney shaped garden has two levels each separated by a cemented rock wall terrace.
Each of the these gardens are terraced using a different material or by using the same material with a different technique. The Centennial Rose Garden used manufactured stack stones, the Sunny Show Garden used freestone river rock, the Shade Garden uses treated landscape ties, the Freestone Rock Waterfall uses freestone flat sandstone slabs and the Cemented Rock Terrace uses river rocks with mortar.
Bread Oven Garden
This garden started out as an old fashion bread oven until the local health unit put a kibosh to making bread outside.
The Bread Oven garden features 6 different trailing plants hang down the outside of the structure. This garden is ideal for getting ideas for bordering patios, walkways and rock gardens
Fast Growing Spruce Trees
Want to make your spruce trees grow five feet a year? These white spruce trees were only 2 feet tall in the spring of 2000 (left hand side of right hand picture) and now are over 25 feet tall in the summer of 2007 (right hand picture. The secret to their success was that they were planted in a cool location on the north side of the building with water supplied by runoff from the roof. White spruce, Blue spruce and Balsam Fir grow tallest fastest in 40%-60% shade.
These trees will pay for themselves big time. As they grow, they protect the building from the vicious north winds, and prevent the building from losing heat. Estimated natural gas savings by having these trees on the north side? 25-30%!!
Vine Time to Leave me Lucille
Hops
Growing vines on the exterior of the house is the easiest way integrating house design with landscape design. Not only do the vines look good but the shade that they provide really cuts down on the air conditioning costs in the summer.
Hops vines do more that cover the front deck, they can add beauty and safety to many of the visual sore thumbs around your yard like telephone pole guy wires and garden sheds
Vines and more vines
Virginia Creeper, Clematis and Scarlet Trumpet Honeysuckle
Even if you don't come from an Ivy League college, you can come from an Ivy Covered house. The leaves of English Ivy and Virginia Creeper turn scarlet in the fall making your house turn from green to red overnight.
All of Mr. V's vines are growing on a wall, porch or veranda of Mr. V's building so you can see and evaluate them in the context of a real house.
Vine Viewing is part of our Show Garden Tour held every Saturday during July and August at 2:00pm.
Japanese Zen Garden
Land of the Rising Son
The Japanese Zen Garden was the direct result of Bruno's 2004 trip to Japan to study Zen under the Great Masters. One of the few minimalistic gardens on the premises, this garden represents more than a framed beach.
Adjacent to the Centennial Rose Garden, the contrast between the two is is amazing considering both garden were built for exactly the same reason; To bring peace to the viewer.
The Japanese Zen Garden is part of our Show Garden Tour held every Saturday during July and August at 2:00pm.
Roman Amphitheatre Firepit
Perfect for toga parties
The simple way to fancy up an every day firepit. The Roman amphitheatre is the perfect way to toast wieners without the clutter of plastic deck chairs to get in the way. The floor was laid with charcoal cobble, the firepit was built with northern roman stackstone with the perimeter seats constructed with northern quarrystone.
The circular benches surrounding the firepit can seat more than 30 people all with an unobstructed view of the flames.
The Roman Amphitheatre is part of our Show Garden Tour held every Saturday during July and August at 2:00pm.
Energy Efficiency Home
Conservation-R-Us
The Mr. V's building has 5500 square feet of floorspace yet uses less than $250.00 of natural gas a year to heat, is cool in the summer, yet cost less than $35.00 per square foot to build, finished on three floors with a bathroom on each floor.
The energy efficient house is part of our Show Garden Tour held every Saturday during July and August at 2:00pm.
Drip Irrigation System
Save water, shower with a friend
During the spring and summer months, Mr. V's waters over 20,000 trees shrubs and perennials twice a day with a single garden hose!! Better still, it is done automatically at 5:00am and 8:00pm and it uses less than 300 gallons per day. Its the water system of the future!!
The drip irrigation system is part of our Show Garden Tour held every Saturday during July and August at 2:00pm.
Arboretum
See what the full grown tree will look like
Tired of trying to guess what a tree will look like by looking in books or tree attached tags. Every plant, tree and shrub that we sell is growing or has grown to full size somewhere on our property. We can show you how fast, how tall and how fat each variety will grow.